Click on any of the photos to enlarge
The RV-4 Project 2-9-21

I have been an A&P mechanic for around 40 years but never had the time to own a plane until five years ago when I bought and restored a 1969 Cessna 150J.  I enjoyed the work and flying has been fun and relatively inexpensive.  Things change and have "a need for more speed" and perhaps learn some light aerobatics.  I looked around for over a year and found a partially completed RV-4 with a factory new engine and a new Dynon glass panel.  The second owner/builder was selling it. 
The first builder made the wings most of the fuselage and control surfaces. The second owner added the engine, avionics, interior and started attaching the control surfaces.  I inspected the plane and found the structure to be ok but everything else needed attention.  I made an appropriate offer and he accepted it.   His wife was extremely happy to see it go.
The re-build,
I have been working on the fuselage in my home shop all winter.  I removed most everything bolted down and now putting it all back.  I am very happy that I did this because I have found many items that would have caused minor issues and some that could have been catastrophic. 
Currently, the engine section is 90% complete, Avionics are done, Interior is 90%, the wings a complete. Currently, I have the tail section torn apart replacing the rear bulkheads and elevator and rudder mounts.  The landing gear is next.  Unless I find new issues, I will be ready for the next step in April.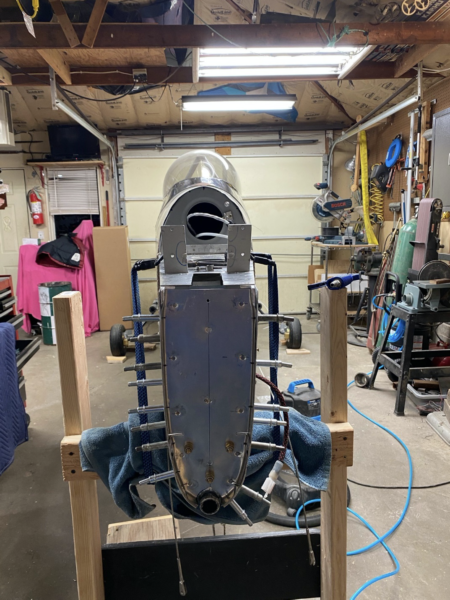 The next step,
I am trying to decide whether to paint first then do the final assemble or final assemble, test fly, then paint.  Any advice would be welcome.
Lessons Learned so far:  
-Building a plane is much different than fixing an airplane.  I am learning a lot.
-Small tasks can take a very long time.  Be patient, take your time and do it right.
-Be ready to start over on things that didn't turn out right. 
-Much can be learned from others. The VAF Forum and Facebook group has been a lot of help.
-When in doubt, change it.   I have found and replaced many untraceable components like fuel hoses, coaxial connectors etc.. It is not that expensive to install quality, traceable materials.     

More to come…